BOUNCE
Bathroom sink Bounce in polyurethane or Cristalplant
design Monica Graffeo
The BOUNCE wall-hung sink by EVER Life Design is an elegant and sophisticated complement that fits into any bathroom with style and elegance.
The shape of the washbasin is rectangular but without sharp edges and corners in order to guarantee safety inside the bathroom. Each model is customized and equipped with a series of accessories that make the sink an inimitable and extremely functional piece of design.
The Bounce washbasin is available in two variants: one in polyurethane and another in Cristalplant.
Bounce: polyurethane sink
Are you looking for an idea for a bathroom sink that is original and safe?
Bounce has a version in polyurethane, a material with a silky texture, soft to the touch that perfectly matches Bounce's essential lines and accessories that make it extremely customizable. It is also a non-allergenic and hygienically safe compound.
BATHROOM WASBASIN IN CRISTALPLANT
Bracket sink
item number: EVLASTA – EVLASTAN
Mobby for Bounce
Colors: black vanity – white vanity
The sink is also available in black color
Bounce is a sink for a modern bathroom and, in the non-accessorized polyurethane version, it is also available in black color.
Bounce: cristalplant washbasin
What is Cristalplant?
Cristalplant is a material very similar to natural stone with a mat finish that makes the surface smooth and aesthetically.
Cristalplant is a resistant material: scratchproof, fireproof, hygienic and recyclable.
Bounce bathroom sink: discover the versions
Polyurethane and Cristalplant versions is available in this variants: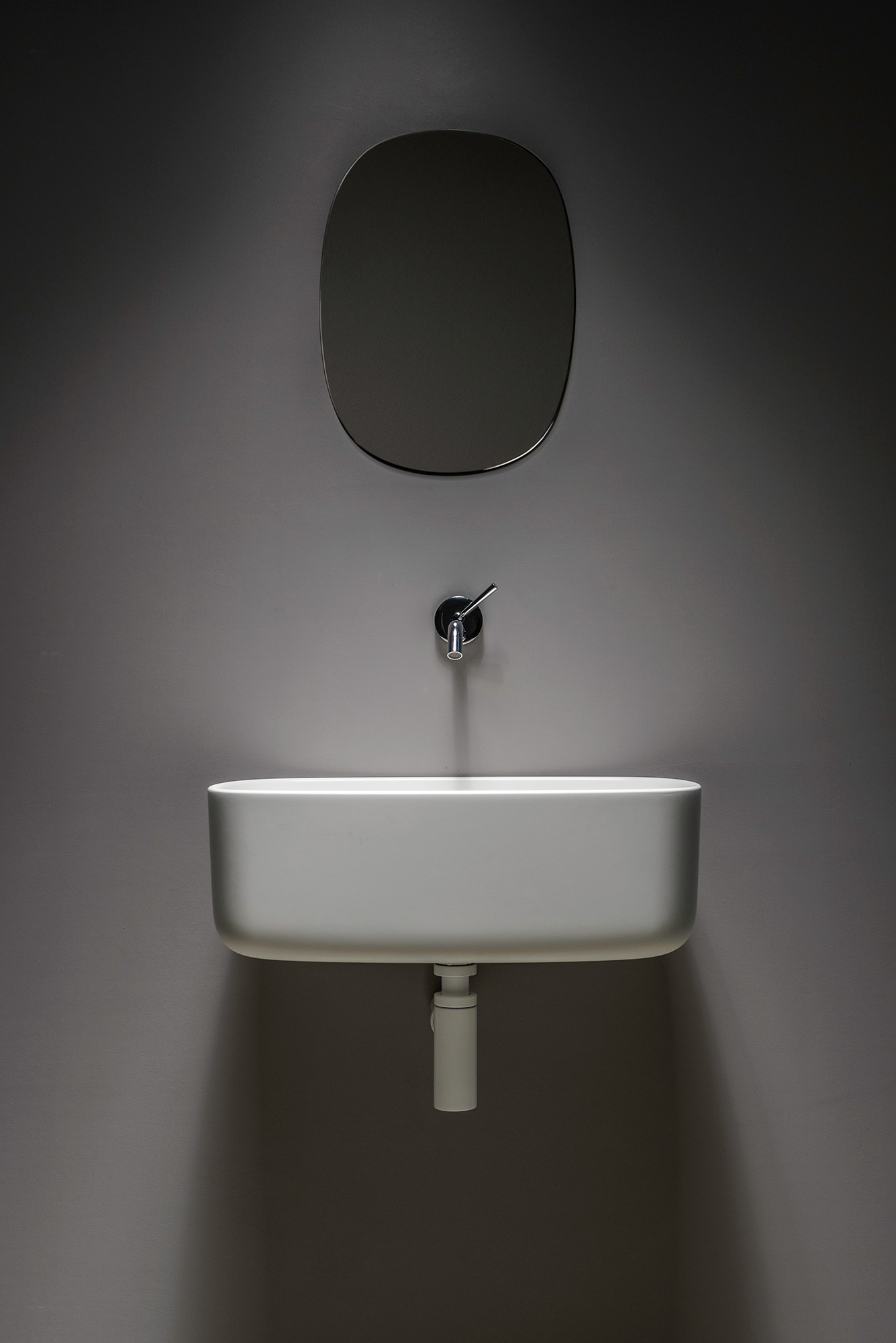 BOUNCE
washbasin available also in black 
BOUNCE HUG
washbasin with enveloping towel holder
BOUNCE CORD
washbasin with side towel holder made of rope
BOUNCE COUNTER
washbasin with floating shelf
BOUNCE PAN
washbasin with orizontal hanger and side towel
MOBBY
The practical and compact solution to complete our Bounce washbasin collections
With Mobby, EVER Life Design presents a new simple and minimal project, in which design and functionality are strictly connected together in one single body, to complete our Bounce collections of washbasins. Mobby is a practical and compact solution for your bathroom.
With its elegant shape outlined by a thin metallic line, this structure offers a top shelf on which you can install the washbasin, and two practical lower shelves for all your accessories. Available in mat white and mat black, Mobby also becomes customizable thanks to the possibility to add an elegant element made of stone, available in 3 colors.
Ask us for your nearest dealer to buy Mobby